The top carry distance in the tide-minnow series
Based on feedback from scores of anglers, we have fine-tuned this model for superb performance under very specific conditions. The excellent specific performance of the Tide-Minnow Advance Line comes at a slight cost to certain other performance characteristics.
The Flyer 175 is a sinking model created based on the Tide-Minnow Slim 175 with special attention paid to its casting capabilities. This lure shines in the roughest weather conditions, as its large body size creates exceptional ability to cast long distances and attract the attention of fish. Rig up the 175 Flyer when no other lure can be used.
---
TECHNICAL DETAILS
MODIFICATION 1: MOVING WEIGHT
We have changed the moving weight from steel balls to higher density tungsten balls. By doing so, we have extended the casting distance compared to the original model, which already had a reputation for its great castability. Use a powerful rod and you will be able to experience a distinct difference.
MODIFICATION 2: THE LIP
With the increase in weight, the lip was redesigned to prevent a substantial change in the action response.
MODIFICATION 3: ACTION
Compared to the original model, this lure features a stronger "wobble & roll" action. A wider lip catches the water more, making the heavier body swim sufficiently in heavy conditions.
---
Length   175mm  |  6-7/8in
Weight  29g  |  1oz
Type  Sinking (Moving Weight)
Hook  #4
Range  0.9~1.4m  |  3~5ft
---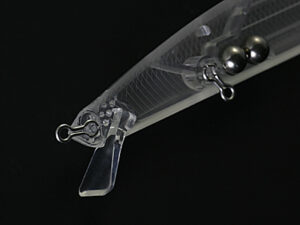 ▸ A Three Piece Structure
The lure is manufactured from three separate pieces which are bonded together. This enabled us to use a thinner lip, creating the lure's special action, while also increasing the strength of the lip.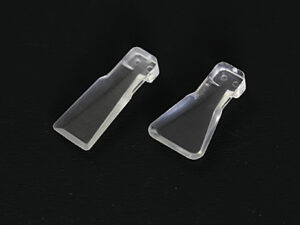 ▸ A Wider Lip
The wider lip specially designed for the Flyer is pictured on the right. A wider lip area is required to effectively move the heavier body of the lure.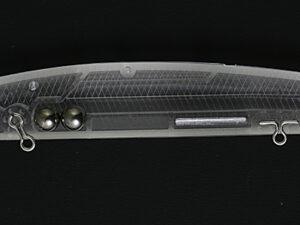 ▸ Weight System
The moving weights were changed from a 7.0mm tungsten ball + a 7.0mm steel ball to two 7.0mm tungsten balls.
Informazioni aggiuntive
| | |
| --- | --- |
| Peso | 0,080 kg |
| Colore | ACC3008 Neo Pearl, CBA0344 Green Gold Fusion, ADA0213 Ocean Bait, ADA0088 Prism Ivory, ACC0170 Pearl Chart II, ASI0106 Gigo, AHA0087 Mazume Sardine, ADAZ048 Ivory Mullet, ADA0218 Pink Gigo, AFA0830 Saddled Bream, GHA0327 Red Mullet, GFA0051 Sardine II, AST0804 Mullet ND, ASAZ152 Orange Gold, GQA0280 Hirame Pink II, DHN0402 Belone, GHA3145 Dark Phoenix, AOA0220 Astro Red Head, DPA0430 Chartback Red Head OB, AHA0034 Sayori, CPA0057 Inada Verde, DEA0493 Whitebait, ADA0003 Chart Back, DHA0405 Sardine Ultra, DHN0432 Chigomori Red Head, LAA0555 Natural Barracuda Glow, GHNZ124 Clear Sayori RT, GHN0157 Waka Mullet, CYA0582 Blackear Sardine, CG00564 Real Gold Nago GB, CNA0534 UV Flash, ACCZ199 Hokusai 25 |